Back to Events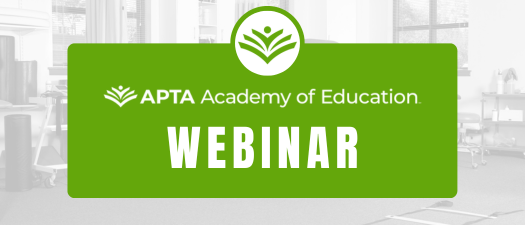 Team-Based Learning in Physical Therapy: Transitioning from Guru to Guide
Thursday, December 7, 2023
Event Details
This course will detail the characteristics and learning preferences of current physical therapy students and provide support for the integration of evidence-based teaching and cooperative learning strategies such as team-based learning in healthcare professions. Presenters will explain the components of team-based learning and share best practices and pitfalls when incorporating this engaging instructional approach. At the conclusion, presenters will provide guidelines for selection and examples of didactic content that may be effectively taught via team-based learning.
Learning Objectives:
After this presentation, learners will be able to:
Explain the characteristics of Generation Z DPT students and discuss their impact on education
Identify the components of evidence-based teaching and cooperative learning
Describe the components of Team-Based Learning
Understand the evidential support for the integration of Team-Based Learning in professional healthcare education
Explain the best practices and pitfalls when developing application activities
Recognize how integrating Team-Based Learning will benefit both faculty and students.
Level: Intermediate
Speaker:
Kelby Kaplan, PT, DPT, EdD
University of Maryland Baltimore
Dr. Kelby Kaplan is an Assistant Professor in the University of Maryland School of Medicine Department of Physical Therapy & Rehabilitation Science, where she primarily teaches in the area of biomechanics, gait, orthopedic, and manual physical therapy. She has almost 25 years experience treating patients in the outpatient and acute care settings for orthopedic, vestibular, and post-surgical rehabilitation. Dr. Kaplan is a Board Certified Clinical Specialist in Orthopedic physical therapy and has served as an item writer, reviewer, and speciality council member through the American Board of Physical Therapy Specialists.
While receiving her Doctorate in Education, Dr. Kaplan's interest in physical therapy curriculum, active learning, and instructional strategies was piqued, and has since become an keystone of her research beyond orthopedic physical therapy.
---
Within 5-7 business days, the webinar recording and assessment will be posted in the Academy of Education Course Catalog on the APTA Learning Center (https://learningcenter.apta.org/educationcatalog). Upon completion of this assessment, you will receive your CEU certificate. CEU: 0.10*